As we finish another lap around the sun, it is time to look ahead and consider what to expect from 2023. Identifying the trends that shape the telecom industry helps service providers develop their future plans and get a head start on the competition.
From the integration of new technologies and expanding digital transformation projects due to Covid, the fallout caused by climate change, and the need to reduce energy use, virtually every industry on the planet is going through significant upheaval at the moment.
At Voipfuture, we are constantly working on a range of telecom projects with service providers around the world. Through our own work and listening to a diverse range of opinions in different sectors across the industry, we believe we're in a good position to discuss what the future holds for 2023 and beyond.
With that in mind, we have compiled a list of seven key trends service providers should keep an eye on moving forward.
The list represents what we believe to be the top trends affecting the industry in the coming year, but is not intended to rank their respective importance.
1. AI/ML-based service automation
AI/ML has been a hot topic for quite a while now, but 2023 will finally see some significant impact in practical telecom operations. Even in its simplest forms, machine learning has multiple applications when set loose on telecom data—for example, detecting fraud and anomalies, supporting root cause analysis, classifying alarms, and predicting churn.
However, AI/ML will also be put to use for automating customer management processes. This includes detecting customer sentiment, tracking keywords, and offering self-service options via conversational AI. Unleashing the full power of AI/ML techniques has the potential to track keywords in real-time, offering customers immediate assistance or directing them to 24/7 AI-powered support tools.
Turning to network operations, AI/ML service automation is also becoming simpler for 5G networks thanks to the network data analytics function (NWDAF). As part of 5G's core architecture, NWDAF collects data from other network functions and procedures to deliver analytics for automation. NWDAF caters for a range of use cases, including:
Predicting congestion at a specific location or for certain devices
Calculating network performance
Load analytics
Mobility analytics
Quality of service (QoS) sustainability
Abnormal behavior or anomaly detection
Regardless of the use case and network, the quality of AI/ML-driven service management depends on the data it is based on. Inconsistent or incorrect data—either during training or production phase—may well lead to wrong predictions. This can have fatal consequences, especially in fully automated processes with no human intervention. To ensure the success of AI/ML-based service automation and to offer features that actually improve the service performance, providers need to base their machine learning models on reliable and accurate data across their networks.
2. VoLTE monitoring on top of VoLTE roaming
Voice over LTE (VoLTE) allows users to make calls over the 4G LTE network. With the need to shut down 2G and 3G networks, VoLTE and VoLTE roaming are receiving significant attention. VoLTE roaming extends IP Multimedia Subsystem (IMS) applications beyond the user's home network, finding ways for various networks to operate in tandem and deliver a seamless service regardless of location.
The telecom industry has settled on the S8 Home routing (S8HR) architecture for VoLTE roaming, providing functionality through the home network alone. However, S8HR brings challenges that service providers need to account for through effective VoLTE monitoring.
VoLTE roaming and the interworking of home and visited networks introduce new requirements beyond conventional VoLTE monitoring tools. Service providers must acquire proactive monitoring capabilities that gather data about foreign networks to deliver a quality customer experience. This includes guaranteeing the same availability, in-call voice quality, and SMS services to prevent users from changing to an over-the-top service.
In essence, this data needs to be available for each specific roaming partner to help track performance over time and uncover root causes of any problems that may occur.
3. Continued 5G and VoNR rollout
No discussion of the telecom industry is complete without mentioning 5G. While the work on 5G standardization started many years ago, 2023 will finally see a substantial part of the voice traffic being carried over Voice over New Radio (VoNR), i.e., over 5G stand-alone networks. Also, greater 5G coverage will help VoIP service providers improve response rate and keep up with the competition.
The GSMA (Global System for Mobile Communications Association) estimates that 5G coverage will reach one-third of the global population by 2025, accounting for up to 1.2 billion connections.
Research from IDTechEx offers a ten-year forecast for the future of 5G markets around the world. They predict revenue from 5G consumer mobile services will reach $842 billion by 2033.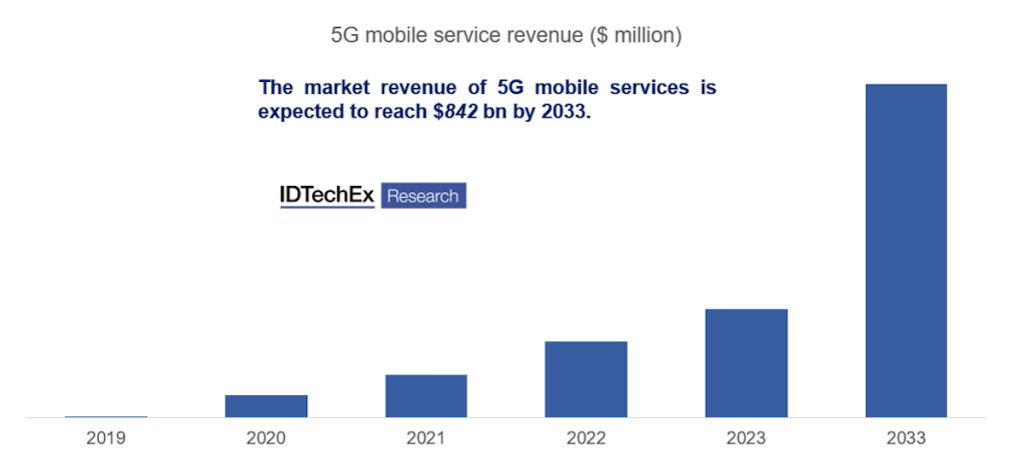 In the shorter term, 5G open radio access networks (Open RAN) are finding more traction, providing the telecom industry with an alternative way to build networks. Not being tied to a specific vendor promises to drive innovation and protect service providers from increasing supply chain issues. The first 5G Open RAN networks were established in September 2022, with many more operators planning to deploy their own in the near future.
Significant opportunities persist in the 5G market. Recently, 5G capabilities have spread to augmented and virtual reality (AR/VR) applications in the gaming, education, and manufacturing industries, with many predicting further development and market penetration.
One last thing to consider for 5G in 2023 is the upcoming Release 18, scheduled for March next year. 3GPP has announced several developments in Release 18, including:
Beamforming/MIMO
Network efficiency in transitions from LTE to 5G
Power savings
eXtended reality (XR) services
AI/ML to improve the performance of physical and radio-access layers
4. Hybrid cloud deployments
Moving to the public cloud has been an important topic across many industries for at least ten years now. However, the telecom industry is lagging behind when it comes to deploying core network functions in the public cloud. Many service providers have instead opted for a private cloud strategy, maintaining control and protecting customer privacy.
The expansion of 5G may test this strategy, offering significant benefits. 5G requires virtualization, scalability, and flexibility, which is difficult to replicate in a private cloud. In particular, achieving high scalability is difficult to justify financially. On-premise public cloud solutions such as AWS Outpost could point to a way out, as they combine the control and privacy of on-prem solutions with the flexibility of public cloud platforms.
DISH deployed its 5G network on AWS (also using AWS Outposts) in 2022, and many others will follow in 2023 amidst a growing telecom cloud market. In 2019 it was valued at $21.93 billion, with forecasts predicting it will almost triple to $62.68 billion by 2025.
It's clear that cloud deployments—whether public, private or hybrid—for voice services offer a range of benefits and in the case of 5G are even mandatory. However, any telecom operator moving to the cloud should keep in mind that making these benefits a reality requires high visibility across the network. Without practical voice monitoring data, service providers struggle to perform root cause analysis and remedy any issues as they arise.
5. The growing need for extreme weather resilience
The effects of global warming mean extreme weather events are becoming more and more regular. The heatwave across Europe in the summer of 2022 showed our infrastructure's susceptibility to the planet's changing climate. The height of the heatwave in July brought down two data centers in London due to cooling system failures. Even worse, the flash floods in Pakistan in July affected roughly 7% of the country's mobile network sites.
Businesses across the board need to wake up to the realities of climate-change-related risk and the need for extreme weather resilience. Given the importance of telecommunications in the event of a natural disaster, the industry is under even greater scrutiny than others. Victims of extreme weather events and first responders need robust communication infrastructure to coordinate rescues, seek help, and plan escapes.
The telecom industry relies on infrastructure potentially vulnerable to extreme weather events such as:
Power cuts due to extreme heat
Storm-damaged utility lines
Flooding of critical facilities
To make matters worse, the climate and weather can't be blamed for everything. For example, Germany's train services were recently put to a complete halt for half a day, due to sabotage. Two key cables of the railway's dedicated GSM-R mobile service were cut, preventing any and all communication.
The industry as a whole needs to strengthen its efforts at improving resilience against extreme weather and other events. Unfortunately, there is no single strategy for better protection. Instead, telecom infrastructure will need a range of methods, from placing communication cables underground to relocating infrastructure from future floodplains to installing backup power systems at critical sites.
Protecting telecommunication infrastructure from climate change effects is a long-term goal that goes far beyond 2023. The process will require better collaboration between all parties, from providers and networks to public sector agencies.
6. Reducing energy consumption and focusing on renewable sources
According to GSMA Intelligence, the telecommunications industry accounts for 2–3% of the world's total energy consumption. It comes as no surprise that 92% of the operators surveyed see sustainability and energy efficiency as very or extremely important to their network transformation strategy: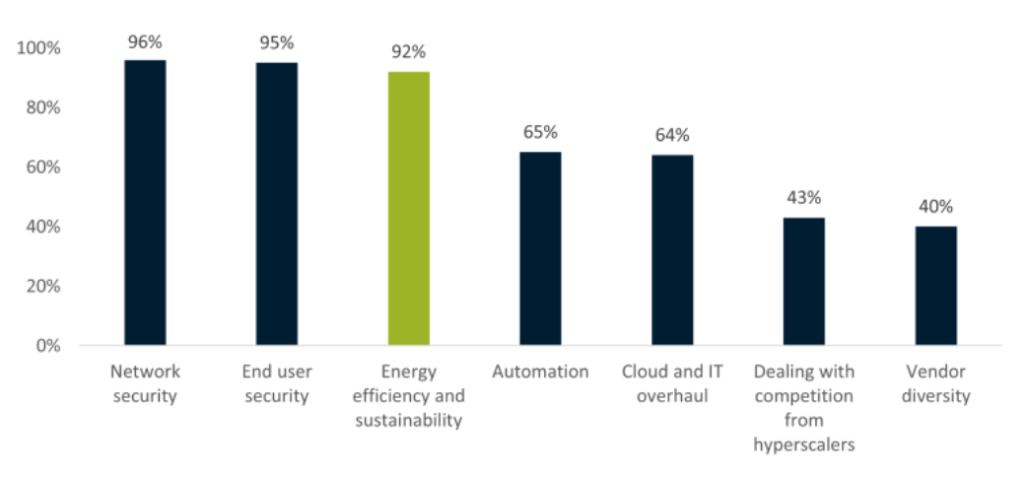 Ericsson's first edition of the "Breaking the Energy Curve" report in 2020 put the annual energy cost of global mobile networks at $25 billion. Given the effects of inflation and the recent energy crisis, it is safe to assume the 2022 figure is significantly higher.
Cost pressures and net zero initiatives are putting energy consumption in the crosshairs. Therefore, telecom companies need to find ways to meet the growing demand and expand the 5G network (deploying more frequency bands requires more equipment and greater energy), all while reducing energy consumption. The only solution is finding ways of working smarter, improving efficiency, and getting more done with less.
Ericsson's report lays out some potential techniques for reducing consumption, including modernizing networks using AI technology to maximize traffic performance. Communication service providers need to focus on energy savings across their networks, particularly radio access network (RAN) products that consume the most power. Ericsson estimates RAN active and passive equipment accounts for over three-quarters of service provider network consumption.
A good start would be introducing energy metering to determine the energy consumption of individual pieces of RAN hardware and build a picture of current operations. Gathering data provides a baseline of existing energy efficiency and helps to understand the connection between the performance service providers need vs. their energy consumption.
On the other side of the problem, service providers also need to utilize more energy from renewable sources. While challenging, there is also optimism. At the end of 2021, T-Mobile announced it was the first U.S. telecom company powered by 100% renewable energy sources.
7. VoIP fraud concerns
Cyber-attacks have skyrocketed in recent years, and VoIP phone systems are increasingly becoming a target. Vedere Labs' research ranks VoIP devices as one of the riskiest connected devices in enterprise networks. With businesses on high alert, security concerns are becoming a growing factor when choosing which VoIP provider to work with.
VoIP systems have the same vulnerabilities as many other computing technology:
Malware
DDoS attacks
Network breaches
Phishing attempts
With businesses connecting more VoIP devices to their network, the attack surface is expanding, giving bad actors more chances to find vulnerabilities in order to commit fraud.
The alarming cybersecurity landscape means customers and service providers had to become more cautious and introduce new protections. This trend will only continue in 2023, with VoIP networks investing in cybersecurity and introducing enhanced data security practices.
Summary
If history has taught us anything, it's that there is never a quiet moment in the telecom industry, and 2023 is shaping up to be no different. With the continuing rollout of 5G networks and VoNR voice services, the shutting down of 2G/3G networks and the transfer of legacy services, the greater integration of advanced technologies, and the increased response to external factors such as climate change and cyberattacks, communication service providers have much to consider moving into 2023.