In our new post-pandemic world, where many people work remotely, voice services are considered to be significant across all industries by allowing real-time communications. Therefore, we wintess a major growth in cloud voice services and unified communications as a service (UCaaS).
Amazon web Services is now considered to be a popular delivering voice infrastructure. Customer experience in regard to voice services is very much dependent on the visibility into the network. In this piece, we discuss the importance of enriching visibility into your critical communication infrastructure.
One of the complications in moving voice services to the cloud is a compensation between the cloud's visibility and flexibility. Practical voice monitoring data allows you to identify what is causing the problem, attend to it quickly, and by that provide the best user experience. In the case of moving voice services to AWS, Voipfuture's Qrystal for AWS controls the quality of your voice service. By using Qrystal for AWS data, communication service providers can maintain control of their end product whilst utilizing all the perks of AWS. By doing so, they can assure a safer, faster, more flexible process of cloud service deployment.
Enterprises can then use the analysis provided from this data to automatically detect issues in the router as soon as they arise, and tend to them immediately.
Qrystal for AWS acts as a passive monitoring solution for real-time, SIP/RTP-based communication services. It contains a distributed Qrystal Probes, which regulates the media stream characteristics and signaling at various points in the network, and a Qrystal Manager, which is the very heart of the solution, sort of a data warehouse.
Some use cases to consider
Monitoring use case: here is an example of a global UCaaS provider, fully-integrated customer engagement and self services omnichannel solution. This company has selected Voipfuture to be its voice quality assurance vendor. Qrystal for AWS was able to verify the vendor's network performance for calls, destinations, routes and individual agents.
Below is a dashboard example of a service operation team; every line correlates to a carrier and every column to a destination. Each section presents a different voice service KPIs – SER, ACD, NER and the MOS.  

Troubleshooting use case: troubleshooting process is also easier with Qrystal statistics. In a case where a company gets complaints from customers and staff about its voice quality, Qrystal probes allow the organization to track the traffic, both entering and leaving the router. Once the source of the problem is found, it can be dealt with specifically. Below is an image of an example for a media quality of RTP streams moving in and out of an access router: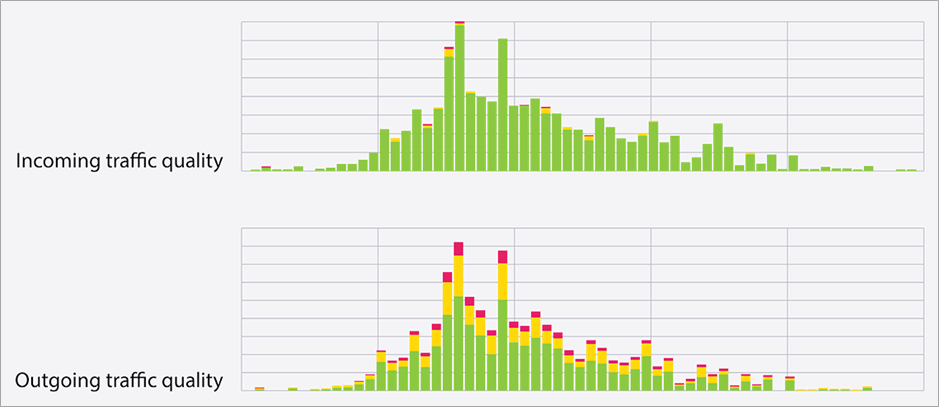 If you are interested to read in more depth on the matter of voice services visibility when transferring to AWS, and the solution Voipfuture provides, you are more than welcome to turn to the article published by AWS